seating…or who sits where?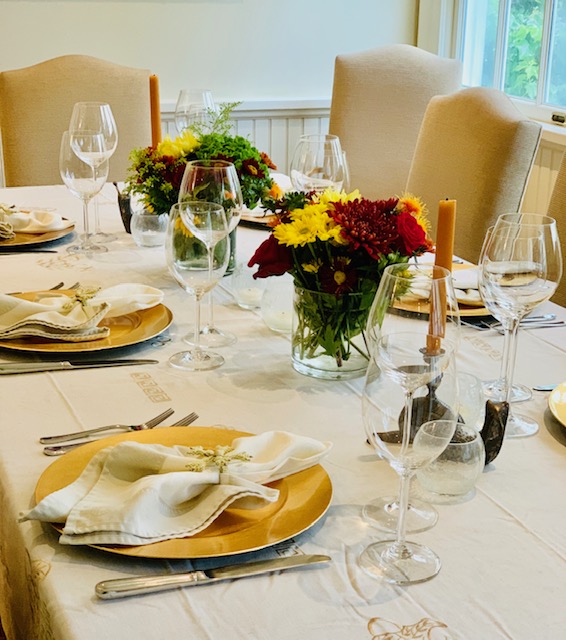 Deciding where to place friends around the dining table can be informal or formal, and having a plan helps set the tone for the meal
If you've ever watched Downtown Abbey or Gosford Park, you understand there was a time when the lunch or dinner seating plan was a time-consuming task
When I go to dinner at a friend's house, being directed to my seat at the table makes me feel more comfortable. It avoids the awkward moment of pausing, scurrying or playing musical chairs before the meal starts.
And though not obvious, giving guests some type of seating guidance subliminally makes them feel more welcome. You have thought about their comfort and (hopefully) selected a seat neighbor who is interesting and shares something in common.
more traditional
Traditionally, the person(s) you want to recognize the most- maybe someone new to the city or your boss, is seated next to the host(s). For example, your boss would be seated next to the hostess, and his wife or partner next to the host. The rest of guests are seated in a male-female sequence and partners are not seated next to each other. Try to place people next to each other who may have something in common- they both worked in New York at some time in their career, live near each other now, have similar or complementary jobs.
You can either create place cards for each place seating, or make a table diagram that only you will see.
other ideas
If stuck or not really sure where guests should sit, I often do a kind of "lottery." Guests pick something from a bowl or tray with its matching pair at the table, leaving the seating to chance while creating some fun. This also works if you do not know people well, or when entertaining colleagues where more neutrality may be important.
Put a flower, a word, photo or trinket on a plate or tray and have each guest select an item. At the table, the guests find the matching item at the table where they will be seated. It is a fun way to start off a meal… and always stimulates conversation.
Or you can have place cards or a seating idea for just the men or women, and then create the lottery for those without cards.
Different lottery ideas
For a meal with an Asian-isnpired menu, write words on Origami paper with words like…. peace, energy, gratitude, etc. and guests pick word out of bowl and then find the match at the place setting.
Women select an earring from a tray, and find the matching one at the table- it is taken away as a gift at end of evening,
Use the names of your favorite writers, poets, personalities- maybe a piece of writing rather than just the name at the place setting. I do not want to make people guess who it is because they may become embarrassed if not known- no reason to start the evening off with someone feeling uncomfortable.
The fun part is seating can create the tone and mood of any meal while making guests feel welcome and comfortable.