thoughts about manners, table and otherwise
Now we have become less formal when it comes eating.  But showing good manners can never be a mistake.  Someone once told me that "manners demonstrate respect for others or the situation you are in."

Many people no longer think manners are that important.  Better not continue reading this if so because my approach on manners tends to be a bit more formal than most.
How often were we told by our parents to "mind your table manners."  For me and my siblings it was an incessant topic around the dinner table.
What seemed annoying then, is much appreciated now and something I try to work on with my own kids.
Maybe at home we sit in front of the TV with a baseball cap but at someone's house it is polite to make an effort.   Manners are also about being gracious and generous whether you're a guest at someone's BBQ or hosting a lunch yourself.
arriving at the party
Always bring a gift for the host(s), whether a nice bottle of wine, a candle, a beautiful note- just something to show appreciation.  It does not have to be expensive or fancy, the point it is to make a gesture and acknowledge the efforts made in having you over.
I have a friend who puts such thought into the little gifts she brings to me since she knows I love to cook and entertain.  A bottle of strawberry vinegar, a book by a famous chef, or a little bunch of strawberries from her garden.  Those are such heart-warming gestures.
My  suggestion is not to bring fresh cut flowers unless in a vase.  Cut flowers can be a bit of a chore for the host(s)–having to unwrap and unwind, find a vase and place in water– a distraction.  Bring flowers in a vase or something in a container like an orchid.
at the table
As my father always said, "Keep your elbows off the table and your napkin on your lap."  The napkin should go on your lap as soon as you sit down.  When you get up from the table, during the meal or after, fold your napkin and put on left side.
How easy is it to sit straight in your seat?  You do not have to sit like in the military but maybe a little straight is nice.
If you would like water or salt, ask for it rather than reaching for it……easy.
eating
You should use your fork at all times, and never, ever your finger.  Europeans use a fork and knife to eat- usually fork in the left hand and knife in the right.  Americans use a fork in right hand and then switch the knife back and forth to cut.
Struggling to get that piece of eggplant that keeps sliding across your plate?  Use your knife…or if all else fails maybe a piece of bread.
And of course, do not chomp or talk with your mouth full.
conversation
You never want to monopolize the conversation no matter how funny or entertaining you are (or think you are).  Is someone asking you a lot of questions about your work or latest vacation?  That is great but best not drone on and dominate the entire conversation, or evening.  It's boring.  You can be interesting but also interested!
You don't have to take yourself too seriously, especially in a formal setting.  Keep conversation engaging, thought-provoking, amusing and mostly light-hearted.  I love strong opinions and discussion about politics and religion but knowing when to stop and let it rest without making it too personal is gracious and in these "interesting" times rather essential.
In formal settings and most especially in Europe, you are supposed to speak to the person on your right side for one course, and your left side for the next…and so on, known as "turning the table."  Be polite and even if one person is more interesting than the other, you can try to rotate.
finishing the meal
Your utensils (cutlery) may be placed together on your plate at either 4 o'clock or 6 o'clock.  When getting up, place your napkin on the table and push in your chair.
A polite thank you to your host/ess is always a good thing to practice.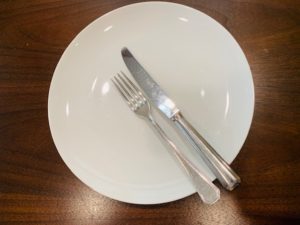 thank you, yes please
Thank you notes, emails and texts recognize the effort the hosts made and are always, always appreciated…and just plain polite.
I like to send written notes but I always send a text the morning after the event just to say a quick thank you.  Why? Because it is lovely to just acknowledge the evening and effort shortly after the event.  Then take the time to write a handwritten note to formally show how much the evening was appreciated.
If attending a bigger event at someone's home (over 20 people) sending flowers or dropping off wine, or some thoughtful gift after the party is a really nice gesture.  And then there is no need to bring anything when you first arrive at the party.